Tak ako sme si na prvej jazde skúsili Sandero s výbavou Comfort, teraz sa nám dostal na skúšku naozaj vrcholný model Stepway, ktorý posúva Sandero na hranicu crossoverového stvárnenia. Znova sa musíme poďakovať Autoštýlu v Trenčianskej Turnej, ktorý nám auto na vyskúšanie poskytol.
O tom, že toto je naozaj vrcholná verzia nehovorí len použitie chrómu a ozdobných prvkov, ale aj interiér. Látkový pás na prístrojovej doske je prvkom, ktorý vytvára ešte lepší pocit z vnútra malého auta. A je vlastne až tak malé? Aj na to sme sa pozreli.
1. Prekvapivo veľa miesta
Tak ako normálne Sandero má aj Stepway dosť miesta. Na Béčkový segment trhu je to naozaj dosť. Vpredu je to jasné, ale relatívne dosť miesta, na túto veľkosť auta, je aj vzadu a v kufor je veľký. Povedzme si to na rovinu, nové Sandero používa najmodernejšiu platformu, ktorou Renault disponuje, presne tú, ktorú má aj Clio piatej generácie.
2. Ako Stepway vyzerá ešte lepšie
Vidíte auto presne podľa špecifikácie, ktorú má to na plagátoch. Oranžová Atacama sa ku plastovým doplnkom naozaj hodí a autu sedí úplne dokonale. Avšak táto verzia môže dobre vyzerať s akoukoľvek kontrastnou farbou. Červená? Super! Biela tiež. Ku celku sa okrem plastových lemov pridáva aj maska chladiča, ktorá vizuálne z verzie Stepway robí iné auto.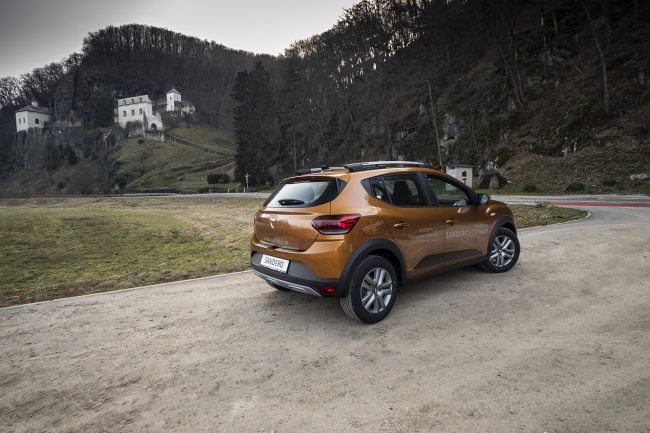 3. Nový infotainment
Dacia má konečne moderný informačno-zábavný systém. Teda ak ho má. Ak má iba rádio, tak sa zobrazuje jeho stav na displeji medzi prístrojmi pred vodičom. Ale ak má displej v strede, tak je jasné, že to bude dobrá verzia. Má totiž podporu bezdrôtového pripojenia Apple CarPlay aj Android Auto. A naviac má veľmi príjemnú a jednoduchú štruktúru menu.
4. Pohodlné sedadlá
To, čo je nutné vyzdvihnúť, čo sa fakt zmenilo medzigeneračne sú sedadlá. V týchto je možné zvládnuť aj dlhšiu cestu bez akútnej bolesti chrbta a bez nepohodlia. Toto je veľký krok vpred, ktorý nebude len tak nepovšimnutý. Dacia sa tak zaradila medzi autá, ktoré nemajú problém s dlhými trasami. Teda to nemala ani doteraz, ale teraz to v pohode zvládne aj vodič.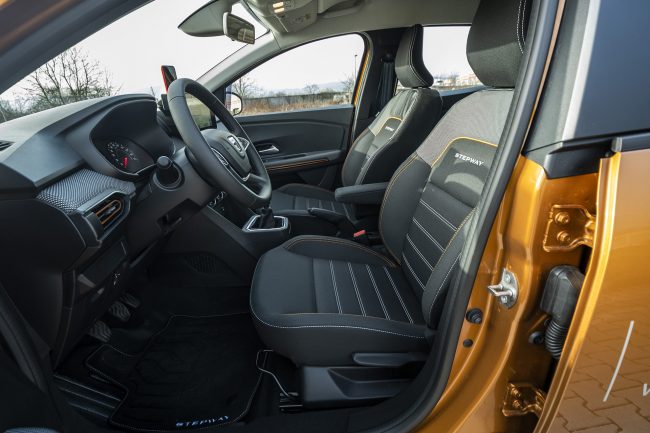 5. Jednoduchý motor s turbom
Litrový trojvalec s výkonom 66 kW (90 k) je na malé Sandero akurát. Naviac je možné ho skombinovať s bezstupňovým automatom CVT. Ten je ľahký na údržbu a relatívne lacný. Ale optimálna voľba je nakoniec predsalen manuál, ktorý má peknú páku, dobre sa s ňou preraďuje a vlastne znova funguje veľmi dobre. Reálne, za 14-tisíc tomuto Sanderu nie je veľmi čo vyčítať.